» General Dentistry
» Cosmetic Dentistry
» Fillings and Bonding
Teeth Whitening

Brite Smile

Opalescence
» Veneers
» Clip-On-Teeth
» Reconstructive Dentistry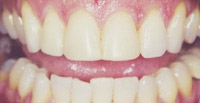 Before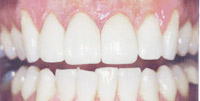 After
Teeth Whitening in Corona and Norco



A dazzling, white smile is attractive and a sign of self-confidence. In our office, this can be achieved in 1+ hour. Having performed hundreds of cases of tooth whitening/teeth bleaching in the past 10+ years in Corona and Norco, we are positive that you will be happy with the result. We are currently using the BriteSmile technology, and Dr. Sam is happy to provide you with the best possible care and will perform everything from isolating the teeth to applying the whitening gel and patented blue light himself.
The BriteSmile experience takes approximately an hour to complete, and during this time you can sit back and listen to music, watch TV or just relax. With over one million happy clients worldwide, BriteSmile is the premier light-activated/laser teeth whitening treatment--more popular than ZOOM whitening--and we are glad to be the specialists in it in the Corona and Norco area.


What about at-home whitening kits, do you offer that?
Yes! Another option for professional tooth whitening is the at-home, dentist-supervised option. We offer the Opalescence Take Home Whitening Gel treatment in our Corona and Norco offices. During your visit, Dr. Sam will take a mold of your teeth and creates a comfortable, customized mouth tray. The mouth tray is placed inside the mouth with the Opalescence whitening gel in it which will sit only against the teeth, thereby avoiding contact with the gums. You can choose either to wear the mouth tray throughout the night or during the day. Results are visible from within the first hour, but complete results are expected in about a week.
Opalescence is a professional whitening system (only available from your dentist) but is affordable and offers excellent results, which is why we offer it. Dr. Sam will prescribe the appropriate Opalescense kit and treatment schedule for you and will supervise your whitening from initial consultation through completion. For more information, see our Opalescence page on the left!
Interested in professional teeth whitening strips? We also offer strips too, which can be a alternative choice if you're looking to quickly brighten up your front teeth, and are looking for the most affordable and quickest option.
Give us a call if you have any questions or to schedule your one-on-one consultation with Dr. Sam. We look forward to meeting you at either of our convenient offices in Corona or Norco.
(951) 278-4646